erPUB - The bridge between OT and IT network
With erPUB, data management is achieved decentrally from the lowest machine level to the highest IT level. And the best thing about it: erPUB can be integrated scalably, securely and flexibly into almost all existing networks, regardless of whether they are new or existing systems.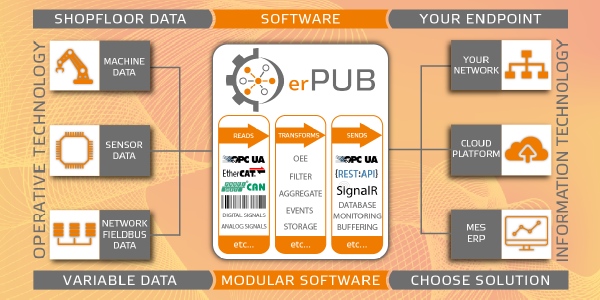 The right bundle
for every company
erPUB can be used on a monthly subscription basis or purchased. You have a special use case? During a meeting, we can take your requirements and adapt erPUB to your needs.
erPUB subscription
Deployment as a Docker Container

compatible with your software

Free updates and maintenance
Buy erPUB
Deployment as a Docker Container

compatible with your software

Free updates and maintenance
The price of the erPUB subscription depends, of course, on the number of licences required. The more licences you need, the cheaper erPUB becomes! Need more information about erPUB? We have provided you with all the technical information separately.
Use of erPUB: Example in production
erPUB is the ideal tool for extracting data from your production and making it usable.
Thanks to its high flexibility, erPUB can be integrated into almost any network and run on an edge device, server or directly in the machine on an industrial PC.
This enables to make production much more transparent, effective, value-adding and future-proof.
no overview of the actual utilisation
increased error rate and few clues
decreased machine availability
sudden breakdowns and machine failures
unnecessary costs for investments
existings data remains useless
increased complexity in asset management
extensive and error-prone Excel tables
View the current status of machines from anywhere
OEE calculation and visualization for direct data conversion
Benefit from optimized and faster production
Reach the maximum potential of your machines and benefit from improved quality
Reduce material, production and energy costs
Get an overview of the machinery
Compare the condition of machines before and after maintenance
Frequently asked questions
You have questions about erPUB? We will gladly try to provide you with some information. Maybe your question is already answered. Otherwise, you can of course contact us at any time.